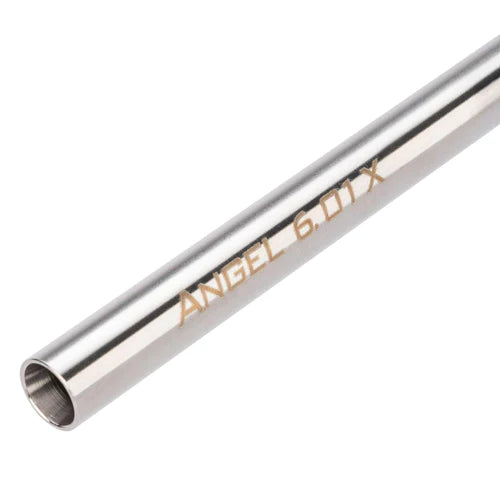 Angel Custom G2 SUS304 Stainless Steel 6.01mm Tight Bore Inner Barrel
Features
Improve grouping / accuracy
Increase power by 10~30 FPS (varies pending barrel length)
Increase range / distance (maximum range / effective range varies pending barrel length)
Milled channels to secure barrel onto the hopup unit. Angled window for reducing wear on the hopup bucking
Minimizes vibration during rapid fire for consistent accuracy and range
Precision processing and surface polishing. Rust / stain / weather resistant
Crafted from high quality 100% SUS304 stainless steel. Highest strength & durability amongst all existing Airsoft barrels
CNC milled and tapered crown. Individually crowned edges for improved performance
Angel Custom G2 6.01mm Inner Barrel Series are the pinnacle of quality and performance in the Airsoft Industry. Utilizing advanced machining technology with premium grade materials, these inner barrels stand out in both quality and performance.
After considerable testing and R&D, SUS304 stainless steel was chosen for its qualities that it gives to the application of barrel manufacturing. Despite its higher cost and manufacturing complexity, SUS304 stainless steel provides a degree of hardness, durability, and resilience to ensure the barrel retains its consistency and accuracy even after tens of thousands of rounds. Other qualities of SUS304 stainless steel is that it has natural scuff, corrosion, and weather resistant qualities making it easier to maintain for years of reliability. Each barrel is crafted using precision machinery; a high polish and precision crowning provide peak performance.
Compatibility / To Determining the inner barrel length you need:
To determine the length you need, measure from where the magazine feed the bb to the tip of your inner barrel, or where you want your inner barrel to end. Subtract ~5mm for hopup unit. Remember, it is perfectly okay to have an inner barrel shorter than your outer barrel, or have the exposed sections hidden in a longer flashhider or mock silencer.
Why Angel Custom?
SUS304 stainless steel barrels are simply better than alloy, aluminum, and brass barrels
Angel Custom Tight bore barrels are the most affordable steel 6.01mm tight bore barrels
Angel Custom's manufacturing capability provides industry leading accuracy and precision
Why 6.01mm?
With the 5.99mm and 5.98mm bbs going extinct, and with present day match grade bbs being 5.88~5.95 for a better center of mass, 6.01mm became the new optimized bore for maximum range, grouping and accuracy.(BB Diameter Deviation Reference: Tokyo Marui / Excel (5.90
+
). KSC/Evike Japanese Spec. (5.88
+
). Matrix, WE, AIM Top, Madbull, Elite Force (5.90
+
).
6.01mm barrels also provides less air volume in the barrel, resulting less air needed from the cylinder for each projection.
Inner Barrel FAQ:
 If you greatly increase the inner barrel of your AEG, you may want to make sure your gearbox Cylinder is adequate. (For example, if you install a 509mm inner barrel on your MP5, you may want to switch the cylinder to a full cylinder so the amount of air inside the cylinder is equivalent to your new barrel.