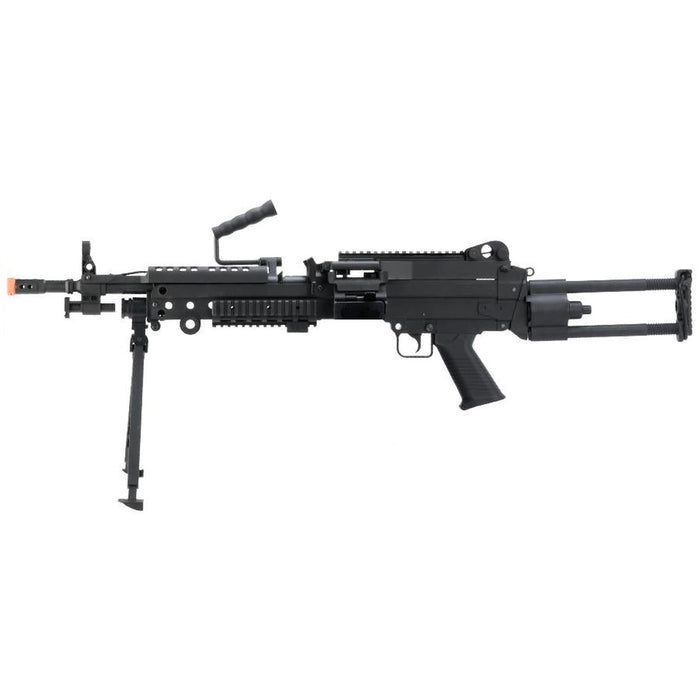 Cybergun FN Licensed M249 Para ''Featherweight'' AEG Airsoft Gun
Features

Length:
 790mm / 930mm (folded / extended)
Weight (w/o magazine):
 3700g (8.15 lbs)
FPS/Joules:
 380 / 1.4
Inner Barrel:
 ~340mm
Magazine:
 300rd M4 Style AEG magazine included. Compatible with A&K style Box Magazines
Thread Direction:
 14mm Negative
Gearbox:
 Version 2 (specs below)
Motor:
 30k RPM High-speed Long Type
Fire Modes:
 Full-Auto, Safety
Package Includes:
 Gun, 300rd M4 Magazine, Bipod
Battery:
7.4v 20C 
recommended (Battery not included. Wiring inside feed tray with a Small Tamiya connector)
Hopup:
 Yes, Adjustable
Gearbox Specifications:
Aluminum alloy gearbox shell
8mm metal bushings
Sintered steel 20:1 gear set
Plastic delayer chip for optimized Full-Auto cycling
Aluminum cylinder
Polycarbonate tappet plate
Polycarbonate piston
High compression polycarbonate piston head
High compression polycarbonate cylinder head
Polycarbonate lightweight nozzle
Quick-change spring guide
Scope not included.