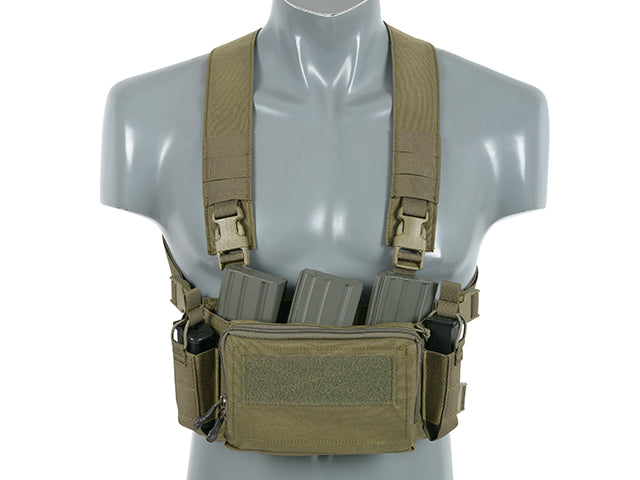 Emerson Gear D3CR Micro Chest Rig (Ranger Green)
The Emersongear D3CR Micro Chest Rig is built to be entirely adaptable to any mission. The new multi-mission inserts allow the user to run any magazine configuration by simply swapping out the insert via Velcro.
The Micro design is small, yet it packs a lot of punch with new storage capacities, and it still works flawlessly with D3CR accessories. The inclusion of two side-mounted Multi-Mission pouches allows the rig to be more streamlined while still carrying mission necessities where they are needed.
The entire field of Velcro enables the rig to be outfitted with the most recent D3CR attachments while also assisting in the full contact connection with plate carriers. It, like its predecessor, is intended and optimized for use in urban, car, rural, and other constrained environments.
Features
500D Cordura 100% Nylon 

With military standard fabric and production process 

The quality fabric of water repellent and abrasion resistance 

The lightweight design releases more pressure during activities 

Side with two pieces of 9mm mag pouches or tool pouches 

Front side with three parts 5.56 mag pouches 

With 1 inch buckle for applying with JPC2.0 vest or other vests with the same buckle functions 

Front compartment with three elastic bands for carrying tools or kinds of stuff 

Velcro is designed to add gears you like 

Ideal for outdoor activities, hunting, and airsoft games