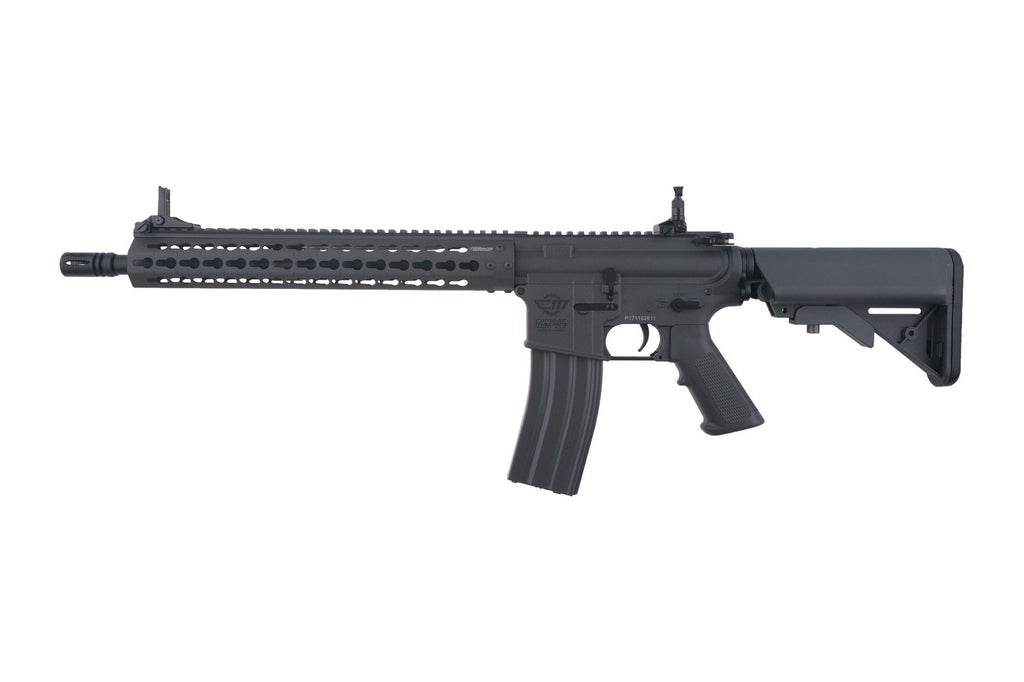 G&G CM15 KR-LPR 13'' AEG Airsoft Gun (Grey)
The CM15 KR AEG Rifle is part of G&G's Combat Machine line in which the aim is to deliver great performing replicas at a economical and reasonable cost. To prevent sacrificing too much performance, G&G kept most of the internal parts the same as their GC intermediate range but was yet still able to deliver the products at a lower cost with G&G's ever so famous high-quality (but cost effective) fiberglass reinforced polymer for the upper and lower receivers.
The CM15 KR AEG Rifle features a full metal free floating Keymod Handguard which saves weight and space whilst still allowing you to add keymod rail pieces whenever you need them. Whether you need to add on a scope or red dot sight to your weapon, the gun comes with a pair of flip-up sights to serve as a co-witness or backup.  It also features an adjustable crane stock with a rubber stock pad which is able to house a double stick battery. You will not find a better value for your money with such a great quality product!
Features
Weight: 2480g

Length: 800mm with closed stock / 900mm with fully open stock

Barrel length: 380mm

Outer Barrel: 380mm metal

Magazine: 450 BBs

Shell: in high quality technopolymer (Nylon fiber) with original screen-printed logo

Stock: crane model adjustable in 6 positions

Front: 360mm Keymod model completely in aluminum

Aiming notches: removable flip-up adjustable completely in metal

Mode of action: electric

Shooting mode: safe / single / automatic

Caliber: 6mm

Gear box: completely in reinforced metal

Hop up: adjustable

Engine: 18000RPS long shaft

Gears: Steel

Bushings: 8mm in oilless steel

Piston: Reinforced ABS

Piston head: ABS

Cylinder: Aluminum

Cylinder head: ABS

Nozzle: ABS

Inner barrel: 463mm aluminum

Trigger: Electronic

FPS: +/-390FPS

Included in the price
1x CM15 KR-LPR 13 ''
1x 450 round magazine
Manual and Instructions