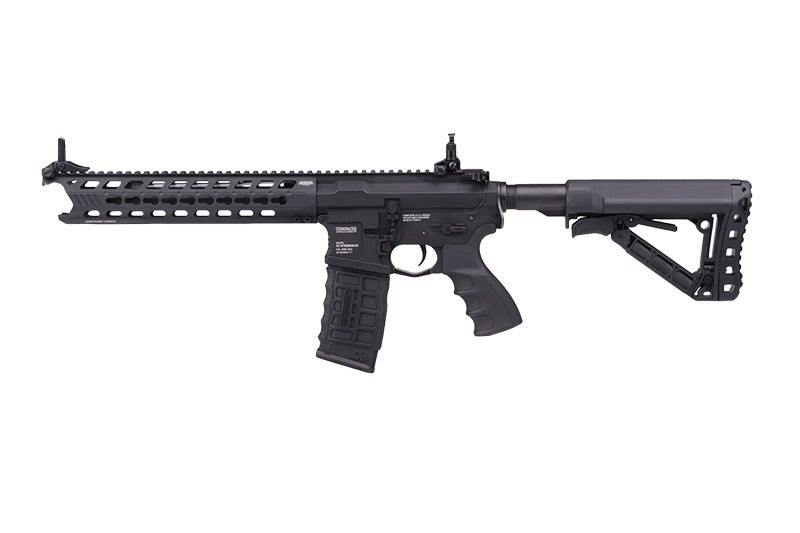 G&G GC16 Predator AEG Airsoft Gun
The improvements include and ambidextrous magazine release, ambidextrous mock charging handle, metal Keymod handguard and a selector switch with a heavy duty detent that gives the user tactile feedback when changing fire modes.

While the GC16 Predator knocks other AEGs in its price range out with its aggressive styling, it's whats on the inside that counts most. Installed from the factory is a MOSFET, allowing the user to use LiPo batteries without worrying about damaging the gun and a programmable fire control which allows the shooter to choose either full-auto fire or three round burst fire modes. Loaded with features and good looks, the GC16 Predator is an excellent choice for any airsofter who is in the market for a gun that has all of the latest features and technology.

Features
Weight: 2549 g
Length: 710mm with closed stock / 810mm with fully open stock
Barrel length: 260mm
Outer Barrel: 235mm metal
Magazine: 300 BBs GMAG-V1 in technopolymer with grip
Shell: High quality polymer (Nylon fiber) with original screen-printed logo
Stock: GOS-V3 model adjustable in 6 positions
Front: 297mm Keymod handguard completely in aluminum
Ambidextrous magazine release button
Aiming notches: removable flip-up adjustable completely in metal
Mode of action: AEG
Shooting mode: safe, single, automatic, 3 burst (programmable)
MOSFET & ETU
Caliber: 6mm
Adjustable Hop-up
Engine: 18000RPM long shaft
Gears: Steel
Bushings: 8mm metal
Piston: Reinforced ABS
Piston head: in ABS
Cylinder: Aluminum
Cylinder head: ABS
Nozzle: ABS
Inner barrel: 260mm aluminum
FPS: +/- 380FPS