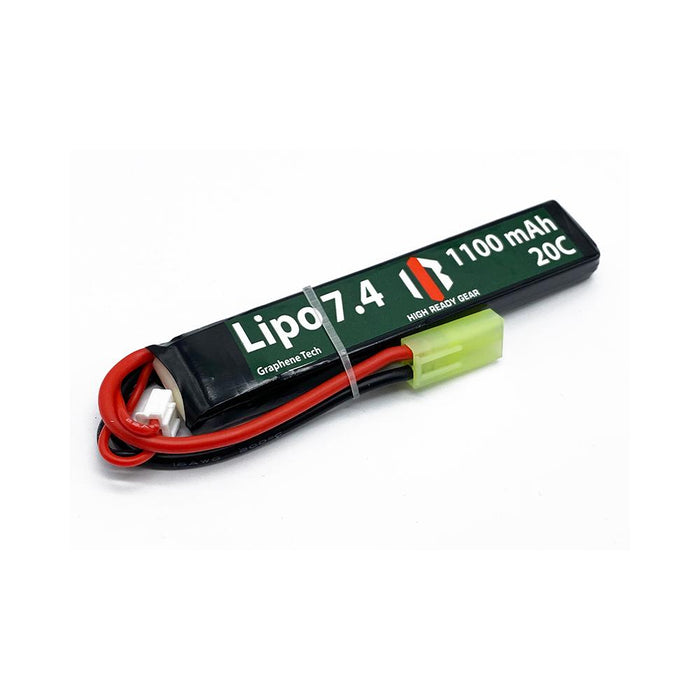 HRG Graphene 7.4v 1100mAh Lipo Battery Stick with Tamiya
Save

Liquid error (snippets/product-badge line 32): Computation results in '-Infinity'

%
WHAT'S GRAPHENE BATTERIES?
NOTE: GRAPHENE LIPO BATTERIES ONLY REQUIRE A STANDARD LIPO BATTERY CHARGER.
Graphene, which is a sheet made of carbon atoms that are bonded together in the form of a honeycomb lattice pattern. It is now considered a wonder material. That is due to the number of different aspects you can use this material in. It is a good conductor of temperature and electricity. It is very lightweight, flexible, and has a large surface area due to its honeycomb structure. Moreover, it is chemically inert, and an eco-friendly, sustainable material.
A graphene battery is a battery that is lightweight, durable, and very efficient when it comes to energy-storing. Using Graphene in batteries will increase battery life. In conventional batteries, increasing battery life is linked to the amount of Carbon inside, however, in graphene batteries since graphene is a good conductive material it does not require the addition of any more carbon, which makes these batteries more eco-friendly and greener.
Graphene Lipo battery utilize carbon in the battery structure to form a single layer of graphene just 0.335nm thick, making that type of battery substrate the thinnest known to mankind. The graphene particles form a highly dense compound allowing electrons to flow with less resistance compared to traditional Lipo battery technologies.
The result is a battery capable of maintaining greater power output whilst remaining much cooler under load. Since heat and resistance are the natural enemy of batteries Graphene chemistry has significantly reduced these problems and the result is an incredible boost in cycle life.
Features (Over traditional Lipo batteries):
Power density: 0.15-0.17kw/kg (5Ah-16Ah)
Power density: 0.13-0.15kw/kg (1Ah-4.9Ah).
Stable High pack voltage through duration of use.
High discharge rate, giving more power under load.
Internal impedance can reach as low as 1.2mO compared to that of 3mO of a standard Lipo.
Greater thermal control, packs stay much cooler under extreme conditions
Higher capacity during heavy discharge.
Maintains higher pack capacity even after hundreds of cycles
Fast charge capable, up to 15C on some batteries.
High quality 16AWG flex wiring can stand up to 200°C
Longer Cycle Life 600+


Specs:
Capacity: 1100mAh
Voltage: 2 Cell / 7.4V
Discharge: 20C Constant
Weight: 100g (including wire, plug & case)
Dimensions: 100x20x10mm
Tamiya connector