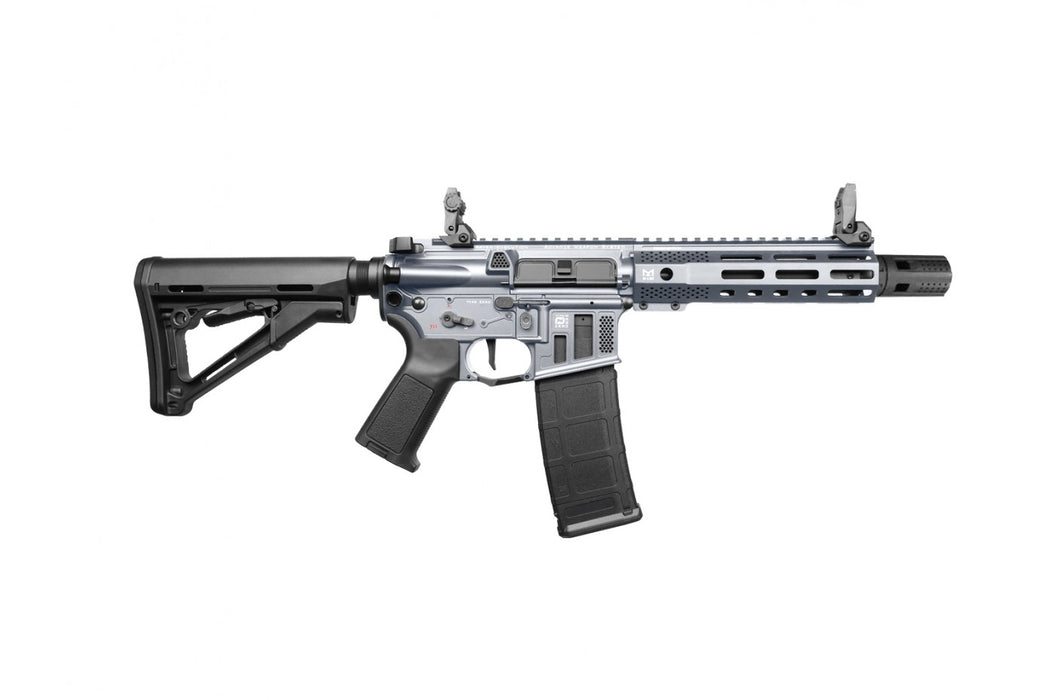 Raven Evolution Gen. 2 ELITE Type Zero CQB AEG Airsoft Gun Limited Edition (Wolf Grey)
The Raven Elite line of high quality rifles is designed for operators who are looking for exceptional quality and performance.  Equipped with many innovative features such as ETCS, Quick Spring Change, Sport Trigger as well as Neodymium High Torque motor makes this series the preferred choice for operators of all levels.
Features
Equipped with E.T.C.S. (Electronic Trigger Control System) featuring: Automatic fault detection, Automatic protection, Burst mode programming (1rd to 5rds), Three-stage trigger sensitivity adjustment, Binary trigger mode (double tapping)
Full metal CNC upper and lower receiver
Lightweight CNC skeletonized feather light design
Neodymium magnet high torque motor with CNC aluminum casing for quick heat exchange
6.03mm precision inner barrel
Full metal gearbox makes for a great upgrade paltform
True quick spring change system
Flat face speed trigger
Aluminum free float M-Lok compatible handguard with QD mount
Flared mag well to assist with loading
Adjustable 6 position stock
CNC ambidextrous charging handle
Ambidextrous fire selector and mag release
Rotory Hop Up unit for precise adjustment
Impact resistance carrying case included
Quick feed Mid Cap magazine included
EXTERNALS
Grip
Polymer pistol grip
Mag Catch
Ambidextrous
Overall Length (Stock Extended)
Overall Length (Stock Retracted)
Receiver/Body
CNC skeletonized aluminum alloy body
Selector
Ambidextrous
Stock
Polymer triangle style
Weight
INTERNALS
Battery
11.1V Lipo (Graphene Not Recommended)
Bushing / Bearings
8mm Bearings
Gear Set
Harden Steel 13:1 Gearset
Gearbox
Full metal with true quick spring change, Standard V2 Compatible
Hop-Up chamber
Polymer rotary
Inner Barrel Diameter
6.03mm
Inner Barrel Length
Inner Barrel Material
Motor
Neodymium magnet high torque motor
Other
Double Seal CNC Aluminum Loading Nozzle
Quick Spring Change
Yes. True quick spring change
Trigger System
Electronic Trigger Control System E.T.C.S.