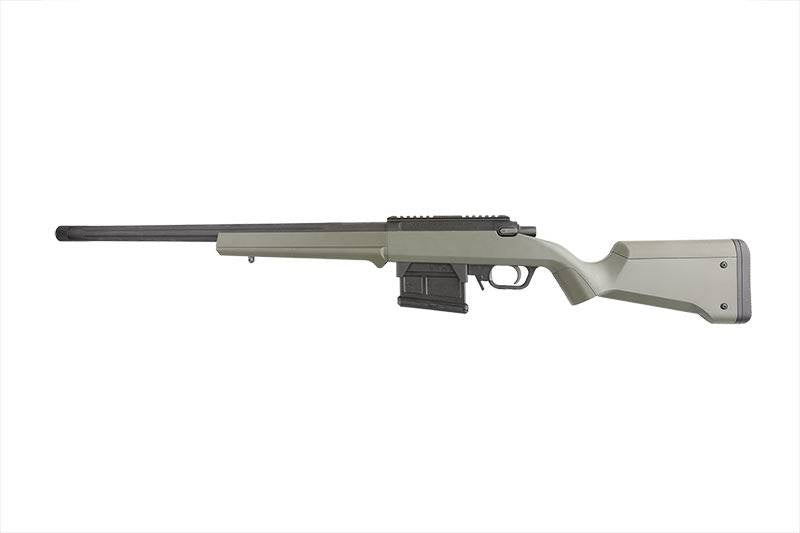 Ares Amoeba Striker AS-01 Spring Airsoft Gun (Olive Drab)
Features
Compatible with AEG springs; QD power / fps change; Lots of upgrade and customization parts
Metal receiver, bolt and barrel assembly, fluted outer barrel, metal 20mm top accessory rail for optics
Adjustable polymer chassis with adjustable buttpad, cheek riser and grip front strap
Interchangeable handguard
Direct feed 55 round magazine
Ambidextrous magazine release; Loaded chamber indicator
Adjustable hop up dial
Safety drop test passed
Comes with the Ares Amoeba Striker Type 2 flash hider to give it a more aggressive look!
Specification

Length: 1085mm
Weight: 4100g
Magazine Capacity: 55 Rounds
Muzzle Velocity: 400 FPS (Measured with 0.20g BBs)
Fire Modes: Bolt Action
System: High Power Spring
Hopup: Yes, Adjustable
Package Includes: Gun, Magazine, Manual
The AMOEBA Striker S1 Gen2 sniper rifle is an advanced, compact, precision Airsoft rifle designed around the concepts of modularity, functionality and minimalism. With all of the useful features you need and want, and none of the bells and whistles that an Airsoft sniper doesn't want, the AMOEBA S1 comes out of the box ready to fight. Built on the foundation of a modular polymer chassis which features an adjustable stock, cheek riser and and grip, the S1 Striker can be customized to fit the individual shooter. The metal receiver houses AMOEBA's Compact Power Bolt, which provides the shooter with the same power they are used to with a much shorter bolt pull length.
Parts schematic can be found 
HERE
Scope and Bipod not included.