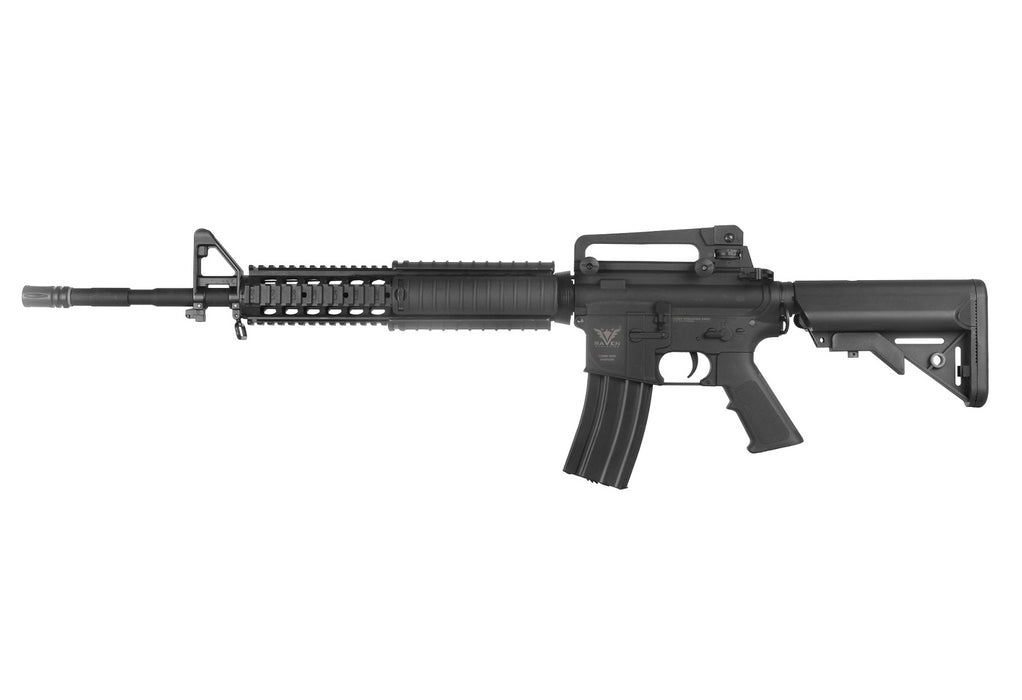 [PREORDER Dec. '23] Raven Evolution NEO RIS Rifle AEG Airsoft Gun
Enjoy a 9% off rebate on your preorder. This offer only applies until the shipment arrives at the shop!
We have designed the Raven NEO to be affordable without compromising performance. The NEO series is equipped with high-quality nylon filled polymer body and rail system, Xcortech MOSFET, full metal gearbox with Quick Spring Change, rotary hop-up, 6.03mm precision inner barrel and 8mm metal bearings.
The NEO series is equipped with the LEVIN metal gearbox that is precisely made and equipped with high-quality internals to ensure durability. Each gearbox is equipped with Xcortech MOSFET, 16 gauge silver-coated wiring, high torque motor, full metal teeth piston, 8mm metal bearings and true quick spring change system

The RIS Rifle represents one of the most recognizible platform and can reach significant distances without even forcing a bit. By removing the carrying handle, you can mount any aiming device that will suit your needs. And with that long-ass barrel & handguard railed at 3, 6, 9 &12 o'clock, you'll be able to easily challenge DMR and Sniper Rifles.
EXTERNALS
Grip
Polymer pistol grip
Handguard/Rail
Nylon Filled Polymer
Mag Catch
Right Hand
Overall Length (Stock Extended)
Overall Length (Stock Retracted)
Receiver/Body
Nylon Filled Polymer with Laser Marking
Selector
Right Hand
Stock
Polymer
Weight
INTERNALS
Battery
11.1V Lipo (Graphene Not Recommended)
Bushing / Bearings
8mm Bearings
Gear Set
18:1 Gearset
Gearbox
Full metal with metal piston teeth with true quick spring change system, Standard TM V2 Compatible
Hop-Up chamber
Polymer rotary
Inner Barrel Diameter
6.03mm
Inner Barrel Length
Inner Barrel Material
Motor
high torque motor
Quick Spring Change
Yes. True quick spring change
Trigger System
Xcortech MOSFET